Source: You'll find at http://www.grovemusic.com/ a biography by Macdonald and other interesting informations (about his works and style). © Oxford University Press 2004



The following text is form the free encyclopedia: WIKIPEDIA where you can add informations and share your knowledge.

Biography
Life and career
Alkan was born Charles-Valentin Morhange to a Jewish family in Paris. He and his brothers used their father's first name, Alkan, as their last. Charles-Valentin Alkan spent his life in and around Paris, and died there, 74 years old.
Alkan was a child prodigy. He entered the Paris Conservatoire at the age of six, where he studied both piano and organ. His teachers included Joseph Zimmermann, who also taught Georges Bizet, César Franck, Charles Gounod, and Ambroise Thomas. At the age of seven, he won a first prize for solfège, and at the age of nine, Luigi Cherubini described his technique and ability as extraordinary. His opus 1 dates from 1828, when he was 14 years old.
In his twenties, he played concerts in elegant social circles and taught piano. His friends included Franz Liszt and Frédéric Chopin, George Sand, and Victor Hugo. By the age of twenty-four, he had built a reputation as one of the great virtuoso pianists of his day, rivalling the other touring virtuoso composer-pianists of the day such as Sigismond Thalberg, Friedrich Kalkbrenner, and even Liszt. (Liszt once stated that Alkan had the most perfect technique he had ever seen.) Because of various personal problems and reverses, he then withdrew into private study, with only occasional forays back into the limelight, for the remainder of his life. In spite of his early fame and technical accomplishment, he spent most of his life in obscurity, performing in public only occasionally. There are periods of his life about which little is known, other than that he was immersed in the study of the Bible and the Talmud. Pianist Elie-Miriam Delaborde (1839–1913) is often considered to be his illegitimate son.
A biography, Alkan: The man, the music (originally in two separate volumes), was written by pianist and Alkan champion Ronald Smith.
Death
According to an often-repeated story, possibly apocryphal, Alkan died when a bookshelf collapsed on him in his home — apparently as he reached for a volume of the Talmud, which he had placed on the highest shelf, in the position closest to Heaven.
Music
Like Chopin, Alkan wrote almost exclusively for the piano. His music requires a dazzling and almost inhuman virtuosity to perform. One of his pieces most often heard today is the bizarre Marche funebre sulla morte d'un papagallo (Funeral march for a parrot), for three oboes, bassoon and voices, which is one of his few non-piano works to survive. Other notable compositions include the Grande Sonate Les Quatre Ages (opus 33), depicting the Four Ages of Man, and the two sets of etudes in all the major and minor keys (opus 35 in the major and opus 39 in the minor). These easily exceed even the Transcendental Etudes of Liszt in scale and difficulty. Numbers eight, nine and ten of opus 39 together form the Concerto for Solo Piano, which takes nearly an hour to play and presents a great challenge to the performer. Number four, five, six and seven together constitute the Symphony for Solo Piano. He also wrote a set of variations Aesop's Feast and a programmatic piece Le Chemin de fer (1844) which may be the earliest composition giving a musical picture of a railroad. His chamber music compositions include a violin sonata, a cello sonata, and a piano trio.
Musically, many of his ideas were unconventional, even innovative. Some of his multi-movement compositions show "progressive tonality" which would have been familiar to Carl Nielsen (for example, the first chamber concerto begins in A minor and ends in E major). He was rigorous in avoiding enharmonic spelling, occasionally modulating to keys containing double-sharps or double-flats, to the annoyance of pianists who are forced to deal with aberrations such as distant keys such as E# major and occasional triple-sharps.
Alkan seems to have had few followers. One composer who does appear to continue Alkan's direction is Kaikhosru Shapurji Sorabji, although Sorabji claimed that his model was Ferruccio Busoni. (Sorabji did, however, promote Alkan's music in his reviews and criticism, and composed a work with a movement "Quasi Alkan".) Alkan had admirers, among them Busoni and Anton Rubinstein, who dedicated a concerto to him. Debussy and Ravel both studied his music under teachers who knew Alkan personally and noted their debt to his examples.
For many years after his death, Alkan's work was almost completely forgotten. There has been a steady revival of interest in his compositions over the course of the twentieth century. His works have been recorded by Egon Petri, John Ogdon, Raymond Lewenthal, Ronald Smith and most recently Jack Gibbons, Marc-André Hamelin, Bernard Ringeissen, and Stephanie McCallum among others. He is buried in the Cimetière de Montmartre, Paris.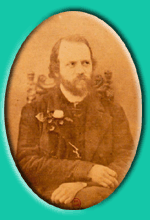 Charles-Valentin Alkan
1813-1888